Monday, May 28, 2012
Bollywood News, Celebrity News, Bollywood Gossip, Bollywood Movies, Style, Fashion, Photo Gallery, Videos: Bollywoodlife.com
Cannes 2012 verdict: Gangs of Wasseypur, Peddlers, Miss Lovely
May 28th 2012, 10:11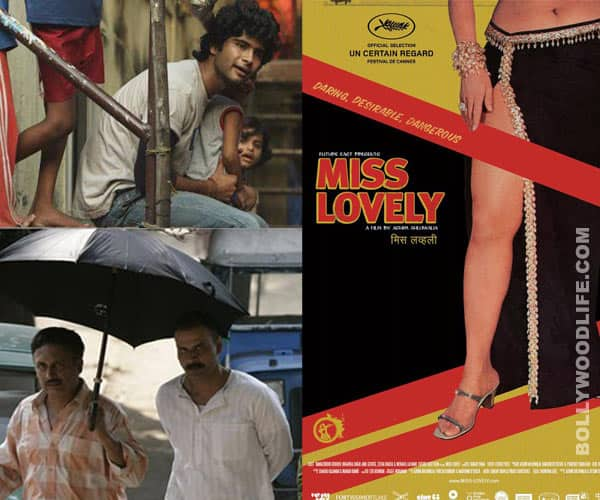 Cineswami shares the response to the three Indian films at Cannes film festival 2012
So, the annual jamboree that is the Cannes film festival is over. This year, apart from the usual spate of non-entities like Mallika Sherawat, Arjun Rampal, Sonam Kapoor and a Goodyear blimp resembling Aishwarya Rai Bachchan walking the red carpet, there was reason for Indian cinema to cheer, because there were four films in official selection (five if you count Gangs of Wasseypur as two films). The Indian media was of course second to none in feting the Indian films, but if we look at global media opinions on the films, they are sobering. So, as always, being the first to party poop, Cineswami compiles the results. But before that, a reminder that none of the Indian selections won any award in Cannes. Guess just being selected is a good enough first step.
Gangs of Wasseypur: Anurag Kashyap's epic can be described as the Indian triumph at Cannes. The Hollywood Reporter is ecstatic, saying, "An extraordinary ride through Bollywood's spectacular, over-the-top filmmaking, Gangs of Wasseypur puts Tarantino in a corner with its cool command of cinematically-inspired and referenced violence, ironic characters and breathless pace." There is also a touch of practicality when they say that the film "clocks in at more than five hours of smartly shot and edited footage, making it extremely difficult to release outside cult and midnight venues." However, the film managed to confuse the reviewer enough into thinking that it is set in Bengal, something that is mentioned twice in the review, whereas in reality it is set in Bihar and Jharkhand.
Screen International is delirious about Wasseypur, saying: "Though it runs at over five hours, there's never a dull moment in this Indian gangland epic by one of India's hottest indie directors, Anurag Kashyap. Oozing visual style, laced with tight and often blackly comic dialogue, bolstered by tasty performances and a driving neo-Bollywood soundtrack, this Tarantino-tinged Bihari take on The Godfather has what it takes to cross over from the Indian domestic and Diaspora markets to reach out to action-loving, gore-tolerant theatrical and auxiliary genre audiences worldwide." Screen however also strikes a note of caution, albeit minor, saying: "It takes some initial effort for non-Indian viewers in particular to make sense of the sheer weight of exposition needed to get the story going and to remember who's who and how they're all related, but voiceover, character-naming captions and sparing use of flashback and flashforward help clear things up, and after an hour so we know our way around."
Peddlers: Vasan Bala's debut, produced by Kashyap, didn't find too much favour with The Hollywood Reporter. They say: "Confused, at times naive story-telling eventually gives way to a powerful dramatic finale, but one so downbeat it leaves a bitter taste in the mouth, in Peddlers, a first feature by Indian writer-director Vasan Bala." Later, it is a tad more positive: "Though it takes a long time coming together, the Hindi-language film does finally succeed in its action-packed last half-hour, rewarding audiences who hang on for that long."
Variety is a bit more positive: "First-film flubs dog Vasan Bala's Peddlers, yet the freshman helmer displays a flair for complex characters and unexpected twists that shows he's a budding talent." Screen International didn't bother reviewing the film.
Miss Lovely: Ashim Ahluwalia's ambitious debut fiction feature failed to make the cut for international critics, who slammed it. The Hollywood Reporter opens its broadside with: "its lethargic mood and elusive story will limit it to small niche audiences," and goes on to damn the film thus: "On paper, the plot of Miss Lovely sounds like a vibrant behind-the-scenes retro-thriller in the Scorsese, De Palma or Paul Thomas Anderson tradition. But the finished article is a very different animal, chiefly because Ahluwalia chooses to tell a potentially lurid story in such a listless and elliptical manner. Dialogue is very spare, with long scenes drifting along wordlessly and aimlessly. The performances are competent, but ill served by sketchy and cryptic characterisation… Partly driven by his concerns that Bollywood-dominated India is the "laughing stock" of global cinema, Ahluwalia has striven for a very self-consciously arty aesthetic here, more Gus Van Sant than Michael Mann… Miss Lovely sets out to prove that Indian cinema can be as rambling, pretentious and frustratingly opaque as a European art movie. It succeeds rather too well."
Screen pretty much agrees: "Ahluwalia has a hard time telling a story of any kind, even as unoriginal as this one is, establishing anything more than clichéd characters or following any kind of sequence continuity. His film gallops ahead regardless of any need for clarity, his shots tied up together in the kind of elliptic editing that may be just too much of an effort to keep up with. One-dimensional performances are not much help either."
Again, Variety is the lone positive voice: "Documaker Ashim Ahluwalia (John & Jane) makes an impressive transition to features with Miss Lovely, an atmospheric tragedy set in the sordid world of Bombay's exploitation-film industry during the late 1980s. There, on the wrong side of the law, labor the purveyors of cheap titillation for audiences that, in the words of one financier, "want to see naked girls, pretty and shameless." Something new in Indian filmmaking, neither Bollywood nor traditional art cinema, the pic provides provides a unique, immersive experience that will need kudos and critical support to boost international arthouse sales."