Wednesday, May 30, 2012
Bollywood News, Celebrity News, Bollywood Gossip, Bollywood Movies, Style, Fashion, Photo Gallery, Videos: Bollywoodlife.com
Sapne Suhane Ladakpan Ke's Rachana and Gunjan get chatty!
May 31st 2012, 05:30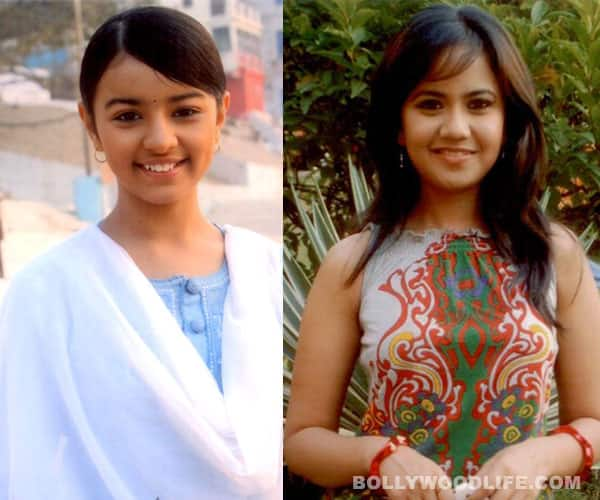 Mahima Makhwala (Rachana) and Roopal Tyagi (Gunjan) jabber away about their roles, likes and dislikes
Zee TV's new show Sapne Suhane Ladakpan Ke stars two relatively fresh faces – Mahima Makhwala and Roopal Tyagi – in the lead roles. Producer Neelima Bajaj explained that they took this decision as the show is about two teenagers Rachana and Gunjan, and established actors are older. "New faces also come without baggage," she said. We thought that meant they also come without any experience giving interviews. Instead both Mahima and Roopal were as chatty as any of their more experienced colleagues. They smiled, giggled and simply sailed through every question – uncomfortable or not – spouting clichés with the ease of veterans. Here's what they had to say:
How similar is the real you to your character?
Mahima: I am the same as Rachana: simple, sweet, sanskaari (traditional) and sharmilee (shy). But I am not as sharmilee as Rachana and don't get scared of small things as much as Rachana does – she is scared of even dogs! I talk a lot, but Rachana is very quiet. I have to really control myself.
Roopal: Gunjan is a spoilt brat, totally pampered and happy go lucky. I am not so chirpy. I am more serious and mature.
How did you bond with each other off screen?
Mahima: She is as sweet as me. We didn't have any problem bonding.
Roopal: When someone is on the same level as you are, it's easy to talk and get along.
Are you studying?
Mahima: I am in junior college, in the commerce stream. I am doing it via correspondence.
Roopal: I am doing my B.Com via correspondence.
Do you miss the life other teenagers, who are not in the industry have? Like going to college?
Mahima: Sometimes I miss going to college and having fun.
Roopal: That's the good thing about the show. I get to do everything that I missed doing.
How old are you?
Mahima: I am 16 years old
Roopal: I won't tell you! I am not even going to tell you which year of B.Com I am in!
This is the first time you are playing lead roles, but you have worked earlier too…
Mahima: I was in Std IV when I did Mohe Rang De on Colors. I've done Jhansi Ki Rani on Zee, Balika Vadhu on Colors, Aahat and CID on Sony and several advertisements. I've also worked with Himesh Reshammiya in Kajraare.
Roopal: I've been assisting Pony Verma on several films by Priyan sir (Priyadarshan). I've worked on all his films from Chupke Chupke to Bhool Bhulaiyya. But then I realised, I prefer to be in front of the camera. I was in Hamari Betiyon Ka Vivaah on Zee and in Dil Mil Gaye on Star One.
What about your family?
Mahima: My mother is a single mom. My dad passed away when I was six months old. She was always interested in acting and that's how I entered this field. No, I have not bought her any gift from my money. Whatever I give will be less, but I have given her lots of love!
Roopal: My parents are in Bangalore. They come sometimes to visit me.