Tuesday, May 29, 2012
Bollywood News, Celebrity News, Bollywood Gossip, Bollywood Movies, Style, Fashion, Photo Gallery, Videos: Bollywoodlife.com
Shahrukh Khan, why bond with Akshay Kumar and Riteish Deshumukh?
May 29th 2012, 06:45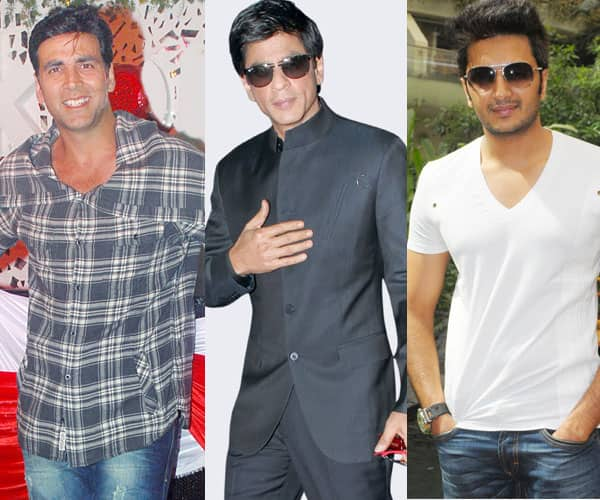 The star was spotted being friendly with both the actors – one his rival and the other, the son of his opponent during IPL 5
It's not lonely at the top for Shahrukh Khan, as most had begun to perceive. With his team Kolkata Knight Riders winning the fifth edition of the Indian Premier League, Shahrukh seems to have made peace with his filmi rival Akshay Kumar. We told you how the two were spotted chatting during an IPL match in Pune recently. Now we hear they partied the night away in Chennai. Prabhudeva and the Rowdy Rathore team had planned a party on Sunday night at the director's home. The director invited SRK to drop in after the IPL final and he did. Li'l birdies tell us that Shahrukh and Akshay –who haven't really been on the best of terms for some time now – had a great time at the bash.
While we were glad to see that, what surprised us was the way Shahrukh was seen bonding with Riteish Deshmukh. The two have been friends for quite some time now, with Riteish being a regular at parties in Mannat. So why were we surprised to see Riteish and wifey Genelia D'Souza rooting for KKR at the final? And partying with SRK later on?' Coz Riteish's dad Vilasrao Deshmukh heads the Mumbai Cricket Association – the body that has banned Shahrukh from entering Wankhede Stadium for five years! Vilasrao's statements on the incident have not been pro Shahrukh. When he announced the ban, he had clearly stated that when rules are violated, the committee will take action regardless of who the person is. "It's a message to everyone," he had said. After SRK's apology for the incident, it was expected that the MCA will withdraw the ban, but Vilasrao is yet to do so. The MCA believes that SRK apologised to his fans and not to the cricketing body. In such a scenario, Shahrukh's bonding with his rival and with his current opponent's son makes you wonder if he is being genuinely friendly or just politically astute.