Tuesday, May 29, 2012
Bollywood News, Celebrity News, Bollywood Gossip, Bollywood Movies, Style, Fashion, Photo Gallery, Videos: Bollywoodlife.com
SHIRIN FARHAD KI TOH NIKAL PADI poster: Farah Khan and Boman Irani make a cute couple!
May 29th 2012, 07:37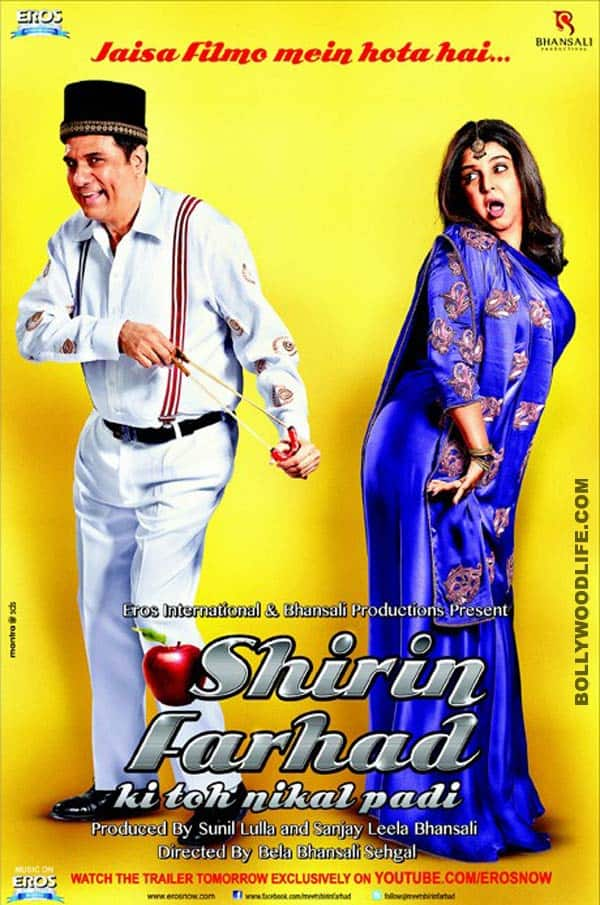 We think the newest romantic jodi on the block will give the young lovers in Hindi cinema a run for their moolah
Bollywood's obsession with love stories can get a little too much to handle. But not when it's an unusual romance between two of the most unlikely people – middle-aged, real-looking Parsi man and woman. Such a prem kahaani is definitely a refreshing change from the young, brash, good-looking couples in love on the big screen.
So ever since we heard that choreographer-filmmaker Farah Khan makes her acting debut opposite the fabulous actor Boman Irani in an unusual love story titled Shirin Farhad Ki Toh Nikal Padi, we waited with bated breath to get a look and feel of it. While the trailer of Sanjay Leela Bhansali's sister Bela Sehgal's directorial debut releases tomorrow, the film's poster is out now.
The first thing that pops into your head when you see the poster is that Shirin and Farhad are inspired by Sooraj Barjatya's Prem and Nisha from the wedding extravaganza Hum Aapke Hain Kaun?. Everything from Farah's purple sari to Boman's white shirt and pants with suspenders to the slingshot and the facial expressions is identical to Salman Khan and Madhuri Dixit-Nene's pose in the original poster. And we like it!
We don't know much about the quirky romance, but given that Farah makes mad movies, we are sure there will be an element of craziness in her acting too.
From whatever little we have seen, Shirin and Farhad have already won our hearts. What about you? Do you like the newest romantic couple in Bollywood?