Tuesday, May 29, 2012
Bollywood News, Celebrity News, Bollywood Gossip, Bollywood Movies, Style, Fashion, Photo Gallery, Videos: Bollywoodlife.com
TERI MERI KAHAANI music review: Melodious!
May 30th 2012, 04:30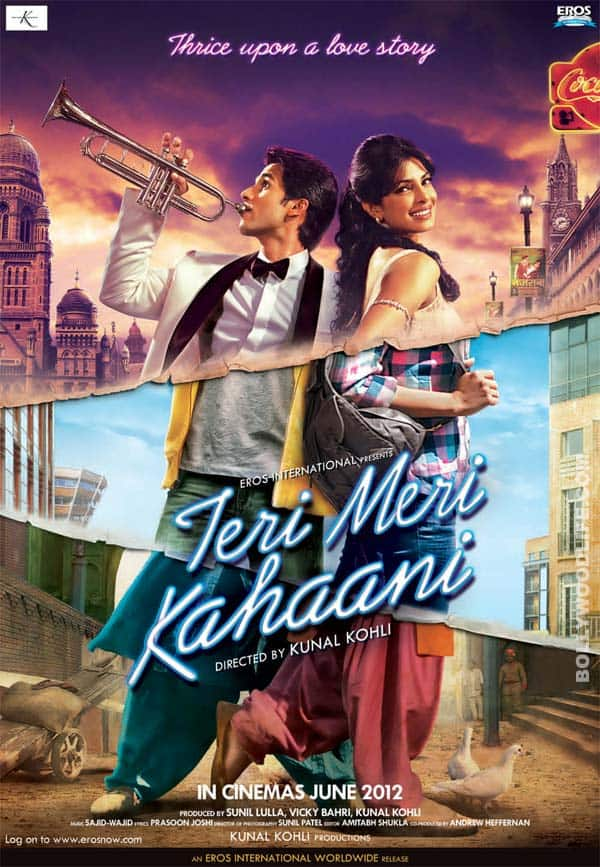 Music direction: Sajid-Wajid
Lyrics: Prasoon Joshi
Rating: ***
Shahid Kapoor-Priyanka Chopra starrer, Teri Meri Kahaani is a commercial rom-com about love in three different eras. Therefore there had to be three distinct tones and expressions for the songs, with the use of a wide range of instruments.
Two songs belong to the early 19th century – Allah Jane and Humse pyar kar le tu. Allah Jane is seeped in shayari (full credit to Prasoon Joshi) and Rahat Fateh Ali Khan sings it beautifully. Flute, tabla, harmonium and sarangi make the song sound authentic, and easily take you to the Lahore of pre-independence India.
Humse pyar… is a good composition with catchy lyrics, but when put in the context of the movie, it is unconvincing. Did people use words like 'nashedi', 'besharam' and 'cheez tedhi' in their conversations or songs at that point in time? I don't think so. Kunal Kohli and Parasoon Joshi take a good amount of creative liberty when writing this ched-chaad number. Otherwise, the song is melodious and grows on you, and the qawwali portions stand out.
Jump to 1960 and you get a Shammi Kapoor-Mohammad Rafi-RD Burman tribute in the form of Jabse mere dil me uff. And it's no surprise that Sonu Nigam was chosen to sing this one. He has grown up singing Rafi numbers and he slips easily into the '60s mode. Sunidhi Chauhan also does a great job. The 'uff' is used perfectly as a hook in this rock and roll number and Sonu's style of saying the word makes it even more fun. The orchestration is perfect for the time its set in – multiple trumpets, drums and guitar.
The 2012 phase has two tracks – That's all I really wanna do and Mukhtasar. That's all I really wanna do sounds quite childish and lame. It feels like a nursery rhyme! The makers probably wanted to keep this track simple and hummable, but that doesn't absolve them of producing such a below-average number. I wish more thought and effort had gone into this song.
Mukhtasar is definitely the best track on the album. The word 'mukhtasar' sounds amazingly poetic in the way it's been used. It's high on energy and there's no respite from the fast-paced tempo and beats. Composer Javed takes to the mike for this one, and adds loads of freshness. Despite the heavy beats, it's the melody that stands out and stays with you.
After listening to entire CD, I was relieved not to find an item song. That's rare these days! Teri Meri Kahaani is a soundtrack that grows on you. Sajid-Wajid is a duo whose strong point is the melodiousness and the entertaining structure they bring to their songs. In this album too, they have focused on the melodies and that's what has made the songs catchy, hummable and fun. The soundtrack is filmi and commercial without compromising on the basic composition, and without playing to the gallery. A little more depth in the romance would have added a new dimension to these songs though. All in all, definitely worth repeated listening!
WATCH: 'Jabse mere dil ko uff' from 'Teri Meri Kahaani'
WATCH: Humse pyar kar le tu' from 'Teri Meri Kahaani'
ALSO READ: