Monday, June 4, 2012
Bollywood News, Celebrity News, Bollywood Gossip, Bollywood Movies, Style, Fashion, Photo Gallery, Videos: Bollywoodlife.com
Aishwarya Rai Bachchan with her baby Aaradhya at Mumbai airport!
Jun 4th 2012, 08:12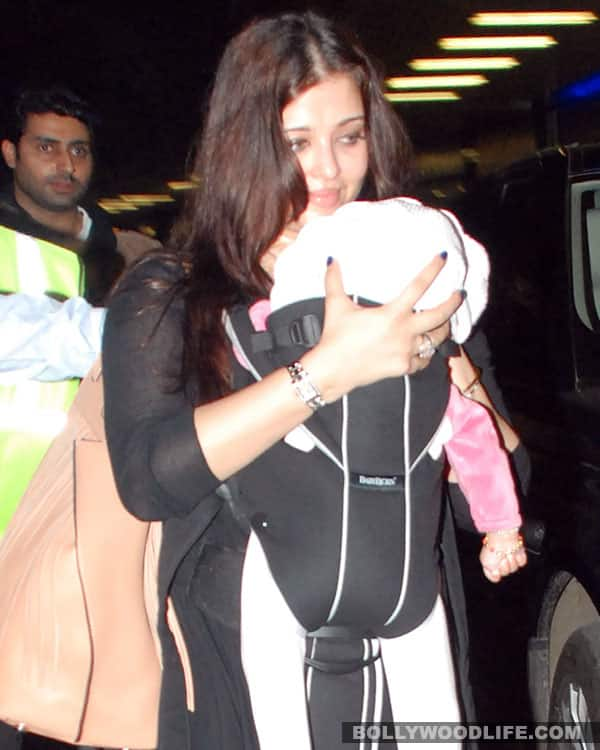 The former beauty queen covered her darling daughter with her arms at Chhatrapati Shivaji International Airport, shielding her from the shutterbugs
B-town's gorgeous lady Aishwarya Rai Bachchan, with baby Aaradhya and hubby Abhishek Bachchan in tow, arrived in Mumbai after a highly anticipated public appearance at the 65th Cannes International Film Festival. But once again, the media missed the chance of getting a glimpse of the youngest Bachchan.
As you can see from the images, Ash walked out of the terminal with Aaradhya all nestled up to her in the similar fashion she was seen at the Nice airport. Thankfully, she didn't go into an overdrive by having an entourage of people using a folder or a shawl to protect the baby's face from the media. Does she feel a little less threatened when it comes to the Indian media? Anyway, all said and done, Ash is definitely overtly protective about Aaradhya, 'coz she had covered the tiny tot from top to bottom in a pink jumper.
While she tried to very hard to maintain her privacy by being hoity-toity, her in-laws Amitabh Bachchan and Jaya Bachchan, who came to receive Abhi, Ash and Aaradhya, were extremely casual about it. In fact, the senior Bachchan couple was dressed in their bedtime clothes!
We understand that every mother feels  protective about her child, but we just can't wait to find out what the little girl looks like. So far what we have gathered is that Aaradhya has taken after her father and grandfather when it comes to the height. Isn't she pretty tall for a six-month old baby? We wonder if she has a face as gorgeous as her mother or at least her beautiful light green eyes.