Friday, June 1, 2012
Bollywood News, Celebrity News, Bollywood Gossip, Bollywood Movies, Style, Fashion, Photo Gallery, Videos: Bollywoodlife.com
Akshay Kumar: Don't touch my collar!
Jun 1st 2012, 13:50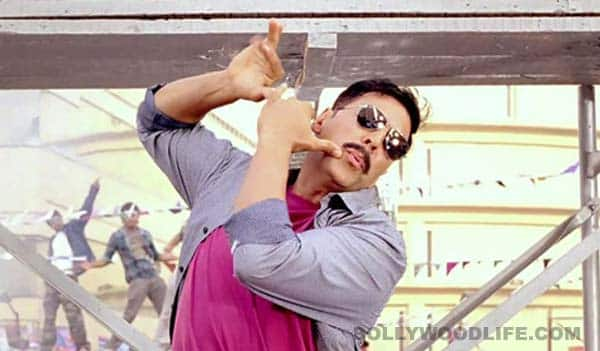 Akshay Kumar is all set to rock the big screen yet again in his Rowdy Rathore avatar. We take a look at some of his more fiery dialogues
Akshay Kumar has always been rough, tough and macho. Most of his early films had seen him mouth plenty of over-the-top punchlines. With Rowdy Rathore hitting the screens today, we translated the most iconic of his lines into English. Our effort will either make you cringe or crack up. Enjoy!
Haath hatao tum. Yeh collar tumhare chhote bhai ka nahin ek police officer ki hai (Sapoot)
Hand remove you. This collar yours small brother of not, of one police officer it is
Holi mein khelne waale apne aap ko rang se nahin bacha sakte. Theek usi tarah mere baap ne bhi holi kheli thi aur woh khoon ke rang mein rang gaya (Sapoot)
In the colours of festival who play they themselves from colours can't save. In the same way, my dad too played the festival of colours and he in blood of colour got coloured
Madam Maya shaayad tum mere jazbaat ki taakat ko nahin jaanti (Khiladiyon Ka Khiladi)
Madam Maya possibly you my strength of emotions don't know
Jisne bhi socha ki main darr gaya woh sala arthi pe apne ghar gaya (Rowdy Rathore)
Whoever thought that I got scared, he bloody in casket his home went
Bhaanda phoot chuka hai, saare raaz faash ho chukein hain, ab aur natak mat karo Roma (Mohra)
The container has broken, all secrets have been opened, now more drama don't do Roma