Wednesday, June 6, 2012
Bollywood News, Celebrity News, Bollywood Gossip, Bollywood Movies, Style, Fashion, Photo Gallery, Videos: Bollywoodlife.com
Anurag Kashyap launched 'Gangs Of Wasseypur' music on the streets of Mumbai
Jun 6th 2012, 09:28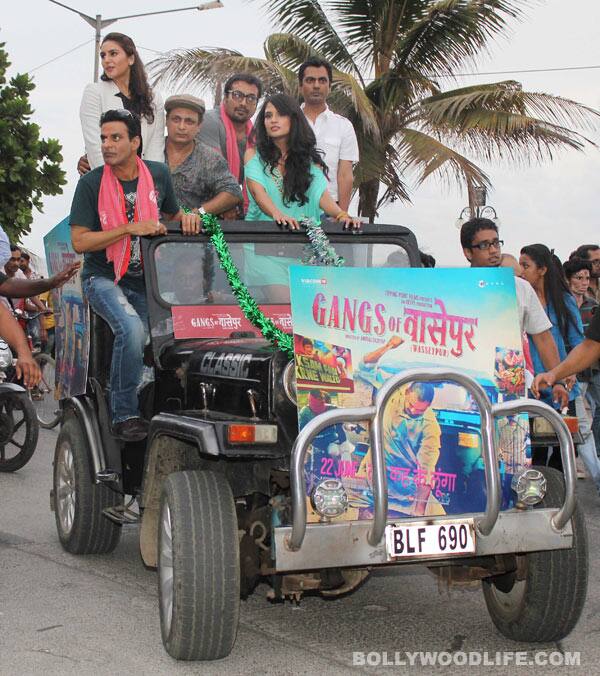 The unconventional director and his cast hit the bylanes of Mumbai to make a big noise about their forthcoming film
After making a lot of noise at the 65th Cannes International Film Festival, Anurag Kashyap and his Gangs of Wasseypur actors – Manoj Bajpai, Nawazuddin Siddiqui, Richa Chadda, Huma Qureshi and Piyush Mishra – decided to do some ho-haa on the Indian asphalt. Since the crime drama has been shot mostly on the streets of Bihar and Jharkand, the film's team circled in and around a western suburb in the 'Wasseypur Express' – an open jeep plastered with the film's posters with the soundtrack blaring from the vehicle's speakers. When the GOW folk reached Bandstand, they unveiled the music amidst fans and bystanders.
It's not unusual for the usual masala entertainers to indulge in exaggerated promotional and marketing activities, but watching the non-conformist Kashyap, the reticent Manoj and newcomers Richa and Huma playing to the gallery was a surprise. Maybe the filmmaker chose the conventional route to make noise about his film 'coz according to him, GOW is typical Bollywood fare filled with love, drama, emotion and action.
We think that finally Kashyap has yielded to the commerce of cinema. 'Coz everyone likes the sound of ka-ching ka-ching from cash registers in the cinema halls, no!