Tuesday, June 5, 2012
Bollywood News, Celebrity News, Bollywood Gossip, Bollywood Movies, Style, Fashion, Photo Gallery, Videos: Bollywoodlife.com
Does Sonam Kapoor have foot-in-mouth syndrome?
Jun 5th 2012, 07:22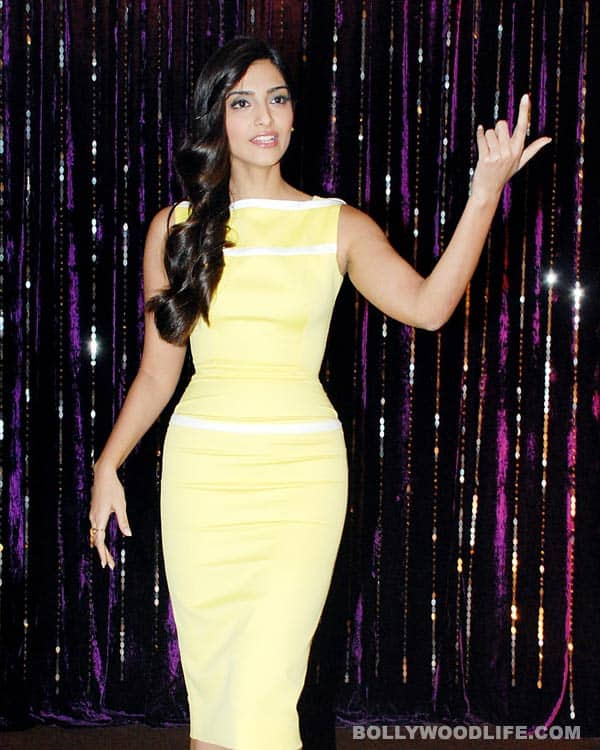 The young actor has a history of getting into trouble for blurting out the wrong things at the wrong time!
Anil Kapoor's darling daughter Sonam Kapoor has done it again! This time her cheeky comments on Katrina Kaif have got the young actor into a mess.
Here's why the Bhaag Milkha Bhaag actor is making headlines. In an interview at the Cannes International Film Festival she said: "With all due respect, I want to give Katrina Kaif a bouquet of flowers. Because I don't know how she does it. You need a certain kind of commitment and a certain kind of shamelessness to do certain things and you get that may be with stardom, with confidence in your talent, with who you are as a person, and I need to develop that before I do that kind of films — over the top films. I need to learn how to do it as I was terrible in those movies."
As soon as comment started inviting criticism, the young actor tweeted: "I'm so over being misinterpreted. How can some select media take a compliment made to someone and make it into a controversy…"
We'd like to believe the outspoken actor, but from what we have heard and read of her ever since she set foot in B-town, we feel that Sonam should think before she opens her mouth.
Sonam Kapoor on Shobhaa De

In reaction to the leading columnist-writer's unfavourable reaction to the actor's photo-shoot for a magazine.

Shobhaa De wrote: Sonam just doesn't cut it in the sex appeal stakes.

Sonam said in an interview: For a 60-something porn writer, I am sure she (Shobha) knows what she's talking about.
After the release of I Hate Luv Storys, De voiced her dislike for the film in a column.

Shobhaa wrote: I Hate Dumb Storys…

Sonam tweeted: Guys please don't take Shobhaa De seriously. She's a fossil who's getting no action and going through menopause.
Sonam Kapoor on Aishwarya Rai Bachchan

In an interview, Sonam called Ash 'Aunty' because she had acted opposite her father Anil Kapoor.
Sonam Kapoor on Ranbir Kapoor

On Koffee with Karan, Sonam and Ranbir's ex-girlfriend Deepika Padukone took many digs at the Sawaariya male lead actor. Sonam said: "Ranbir is not sexy unless he sheds all his clothes"; "Ranbir is not a good boyfriend material, I wonder how Deepika held on to him for so long"; and "Ranbir needs a stylist."
All of which leaves us wondering what the gal will say next!