Tuesday, June 5, 2012
Bollywood News, Celebrity News, Bollywood Gossip, Bollywood Movies, Style, Fashion, Photo Gallery, Videos: Bollywoodlife.com
GANGS OF WASSEYPUR music review: Rooted, quirky and brilliant!
Jun 6th 2012, 04:29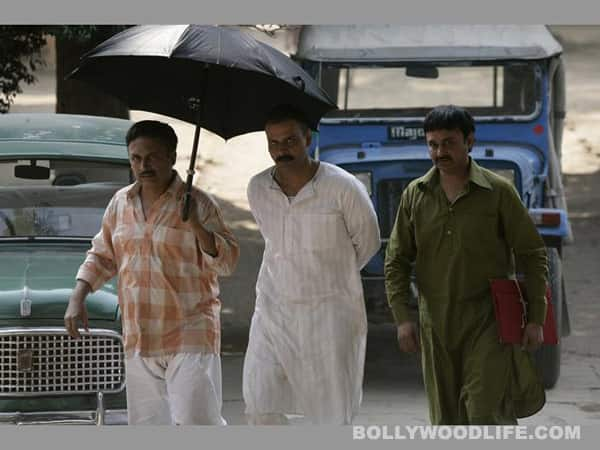 Music: Sneha Khanvalkar
Lyrics: Varun Grover and Piyush Mishra
Rating: ****
Sneha Khanvalkar experiments with local folk singers – they croon to a reggae-style number, mouth folk lyrics to techno beats and blabber incomprehensible sounds – to come up with India's most authentic and best fusion album of our times
Most of the tracks in the 14-song soundtrack of Gangs Of Wasseypur are sung by local artistes from UP, Bihar and Bengal. The first song on the album is Jiya ho, which starts with progressive beats, goes into a typical Bihari tune with traditional lyrics and comes back to techno beats every now and then. The constant 'bhaiyyan' alaaps in the background and the back up vocals are a lovely touch.
I Am A Hunter starts with a 'heylo', sung in a peculiar way, and I couldn't help laughing after hearing this one word! Portions with vocals like 'hum hai sikari sikari sikari', 'aaaah' and 'tan tan' are also super entertaining. The history of this number is interesting. Hunter, one of the oldest folk songs of the land of UP, has now become a popular song in the Caribbean Islands, where a big Bihari population migrated to decades ago. The folk number now has Calypso beats and English lyrics. The catchy rhythm and singer Vedesh Sokoo's cheeky style make it a winner. Most innovative!
O womaniya live is essentially a jam session of singers in Benares, but it reminds you of those 1950s' songs where a group of girls on bicycles come together to sing a filmi number. The trumpets and Khushboo Raaj and Rekha Jha's voices make it real and fun. You want to do nothing but whistle when these women say 'Ei hai (w)oomaniya'!
There's another version of this song called Womaniya. This comes with electro beats, electric guitar and drums complimenting the trumpets. The mixing is experimental. The original is more fun, but this version's not short of being an entertaining number either.
Keh ke loonga starts with ominous hand drums and a grave tune. Sneha Khanvilkar's solemn vocals take the song forward, before she is joined by an equally dangerous-sounding Amit Trivedi. Words like pataal me ghus ja, jisme ghusna ho ghusle, ghus meri jaan, teri keh ke loonga, followed by a scream, seem to rise straight from someone's grave. It's a cold and menacing song, perfectly executed.
While Keh ke loonga is scary, Loonga loonga is more danceable version. It's fast-paced, groovy and catchy!
Bhoos, sung by Manish Tipu and Bhupesh Singh, is a street performance number. The orchestration – trumpets, tabla, harmnonium – is earthy. It's a song about being a loser, with an underlying sense of humour.
A sitar and flute introduce Ik bagal. Lyricist Piyush Mishra takes to the mike and sings this in a voice that is steeped in pain. The old world charm and roughness of his vocals only help increase the melancholy quotient of this song.
The Musahars of Sundarpur lend their native talent to the song Bhaiyya – earthy voices mingle with scary trance music. You can easily imagine a deadly murder sequence unfold while this track plays in the background! Not sure if that's how it has been used in the film, but this one's definitely haunting and horrific.
Tain tain tain is a blabbermouth take on Womaniya. Sneha Khanvilar goes crazy singing stuff like 'ka ke ko ko ka ke ki ka ka' and 'ti ti ti ti taan taan' with the harmonium and an occasional siren for support. The most interesting song I've heard in years! This one's an original and Sneha needs to be applauded for inducing an amazing amount of her sense of humour into it.
Soona kar ke is a nautanki number. The singing is hardly appealing at first and the alaap gets jarring, but once the manjira, tabla and harmonium kick in, you realise that this one's meant to be this way.
"Har yaar wafadar nahi hota, har patthar chamakdar nahi hota, na jaane ban me kitne phool khile hain, har phool khushbudaar nahin hota," trills the singer from the Ranjeet Baal Party in Aey Jawano. It is a folk instrumental number with a twist. You can easily trip on this one.
Manmauji is melodious. It's an old Bengali folk number, sung by Ursi Banerjee. It's a naughty love song that takes you back to black and white movies, with words like 'jag ki reet', 'balam' and 'ras ki baat', and a very simple arrangement.
Humnike chodi ke is sung by a young boy called Deepak Kumar from Mussafarpur. With just a harmonium for company, the young singer does an earnest and sincere job. It's a live recording where you can even hear the vibrations from the harmonium – as real as it can get.
After listening to several mediocre albums, this soundtrack comes like a breath of fresh air. Anurag Kashyap has gone an extra mile to create music that will mirror the subject and setting of Gangs Of Wasseypur. He also shows us that Indian folk music and local singers are treasures that need to be tapped into. They have a lot to offer to Hindi film music. Music composer Sneha Khanvalkar digs into North India's roots and creates a quirky, entertaining soundtrack – a brilliant, superb and fantastic effort!
WATCH: