Friday, June 1, 2012
Bollywood News, Celebrity News, Bollywood Gossip, Bollywood Movies, Style, Fashion, Photo Gallery, Videos: Bollywoodlife.com
Has Ekta Kapoor found her sole-mate at last?
Jun 1st 2012, 12:55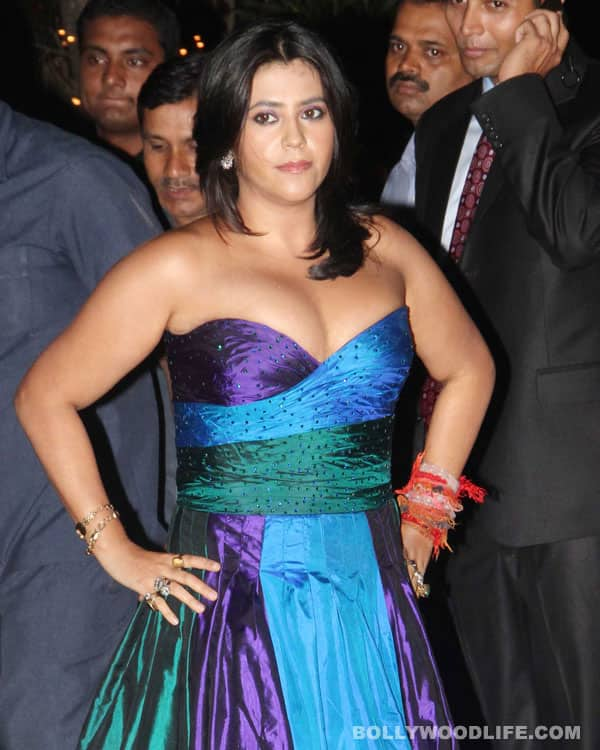 After seeing her in ugly clunky sandals for so long, we finally saw the telly soap queen in footwear that was pretty and delicate! What happened, Ekta?
For a long time now we have been despairing over Ekta Kapoor's fashion statement. She either wore enveloping and badly fitted shrouds that she called kurtas or else slid into the most inappropriate one-shoulder gowns, often by Malini Ramani and her designing ilk. Remember that whole wardrobe of shaded kaftans EK showed off for much longer than we could stand? Shudder.
And then, all of a sudden, she went through a fashion metamorphosis. She shed the caterpillar cocoon and slid into amazingly sexy outfits, from netted ghagra cholis to sexy embellished saris to a couple of gorgeous frocks that were oh-so-delicious on her voluptuous curves. But even with the newly stunning style makeover, we had a major crib – she needed to shed those dreadfully clodhopper slip-on chappals, those hideous platform horrors that she wore to wedding receptions and awards ceremonies alike. Ugh! Was it for feet that had problems or a misguided sense of style, we dunno, but we hated those things with a passion that could not be described.
Everyone knows that Ekta Kapoor sleeps with one ear open and this time we actually believe it. Coz last we saw, at long-time buddy Karan Johar's 40th birthday party, the telly-czarina turned up in a multi-hued shades-of-blue gown, her generous bosom overflowing its strapless corset top, her make up, hair and jewels just so. And as she walked extremely cautiously over the red carpet into the venue, stopping to pose for the paparazzi with her family, we noticed something that made us squeak with delight: the lady had actually worn event-appropriate sandals, that looked pretty, delicate and oh-so-perfect with the party ensemble.
We probably will never know what brought about this change, Ekta, but we sure like it! And look forward to much more…