Wednesday, June 6, 2012
Bollywood News, Celebrity News, Bollywood Gossip, Bollywood Movies, Style, Fashion, Photo Gallery, Videos: Bollywoodlife.com
Is Kareena Kapoor Priyanka Chopra's new BFF?
Jun 7th 2012, 03:05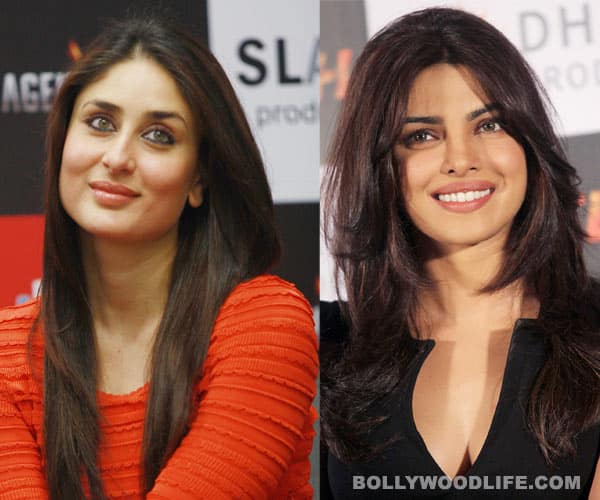 The Barfi! actor dropped in on the sets of Madhur Bhandarkar's Heroine and did the unthinkable!
Looks like Priyanka Chopra is in a mood to rekindle her friendships with her peers in B-town. But hold on, we're in no way hinting at the first ladies of Bollywood. Guess there's still a while left before the jungli billi mends those rather frayed bonds. Here we're talking about Pee Cee's arch rival in the industry, Kareena Kapoor.
It so happened that Twitter savvy Piggy Chops, who loves to keep us updated on her reel and real life through this micro-medium, recently tweeted, "Hopped in on @mbhandarkar268 s set of heroine and hung out with Bebo and my entire fashion team..such fond memories.." Ahem ahem.
The tweet reminded us about the memories we had of Priyanka and Bebo's…err…chemistry. If we recall correctly, in reply to Bebo's remark about Priyanka's accent the Teri Meri Kahani actor said, "I want to tell Kareena that I got my accent from the same place where her boyfriend (Saif Ali Khan) got his." And after that we even heard Ms Chopra saying, "I'm flattered that Kareena thinks I am a good actress. But otherwise I don't think people take Bebo too seriously." Now these memories seem far from fond. Don't they, Priyanka?
What's more, in response to PC's tweet Madhur Bhandarkar said, "It was our pleasure to have you on the sets of #Heroine. Your Jalwa will always remain the same." Ouch! Does that mean he is expecting Bebo dearest to match Priyanka's standards? We don't know, not yet. But would love to know what KK has to say about it all. Wink, wink.