Friday, June 1, 2012
Bollywood News, Celebrity News, Bollywood Gossip, Bollywood Movies, Style, Fashion, Photo Gallery, Videos: Bollywoodlife.com
MANAM KOTHTHI PARAVAI movie review: A family entertainer
Jun 1st 2012, 11:47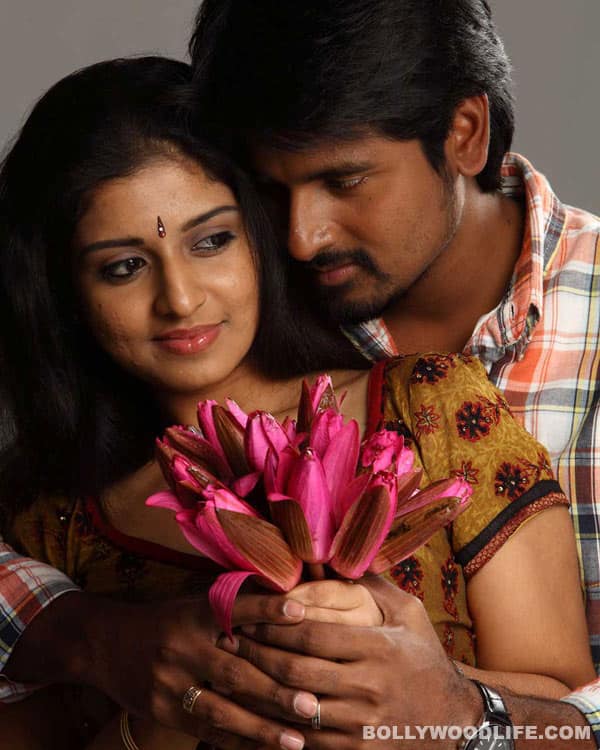 Director S Ezhil made a mark with sentiment-tinged romances that appealed to the audiences in the early 2000s'. He is now back with a light-hearted Tamil film – Manam Koththi Paravai with television personality-turned-actor Siva Karthikeyan in the lead role
With a handful of comedy actors, S Ezhil – the director does achieve what he set out to do, that is to come up with a romantic comedy. The story deals with romance, friendship and some emotions.It is about a young guy, his love life and the problems he faces in it. The movie blends romance and humour in good measure, and is without doubt a family entertainer, though some cliched scenes mar the flow especially in the latter half.
Kannan (Siva Karthikeyan) is a happy-go-lucky youngster, who falls for his neighbour Revathy (Athmiya). The girl's father and uncles are known toughies in the village. Kannan assists his father (Ilavarasu) in his construction business and enjoys spending time with friends (Parotta Suri, Singam Puli and Deiva Thirumagal Kishore). When Kannan decides to announce his love to Revathy, there is a twist. Her wedding has already been fixed with an influential man by her family. Kannan's friends from Mumbai – Sreenath and Chams arrive in town, and after coming to know about his romance, kidnap Revathy. All hell breaks loose when the heroine says that she has no interest in Kannan. Meanwhile, the girl's family begins a search for her. How the hunt goes and whether Kannan and Revathy come together forms the rest of the story.
Siva Karthikeyan has good company in newbie Athmiya, who does a neat job of her maiden outing. Experienced actors like Singam Puli and Illavarasu add solidity to the script. Ezhil must also thank music composer D Imman and cinematographer Suraj Nallusamy for their good work, which add strength to the film. Karthikeyan is the star performer and looks the part. Debutante Athmiya fits the bill. Singam Puli as Modu Mutti deserves praise for his humour and so do Parota Suri, Sreenath, Venniradai Murthy.
Imman's songs and music are catchy and foot-tapping. Ezhil has stuck to his strengths by going in for a romantic subject, and in doing so sends Siva Karthikeyan's stock soaring a few notches.
Read more reviews:
DARUVU movie review: Solely rides on Ravi Teja's shoulders