Monday, June 4, 2012
Bollywood News, Celebrity News, Bollywood Gossip, Bollywood Movies, Style, Fashion, Photo Gallery, Videos: Bollywoodlife.com
Nandinii Sen: I did 'Kya Hua Tera Vaada' for Ekta Kapoor
Jun 5th 2012, 04:08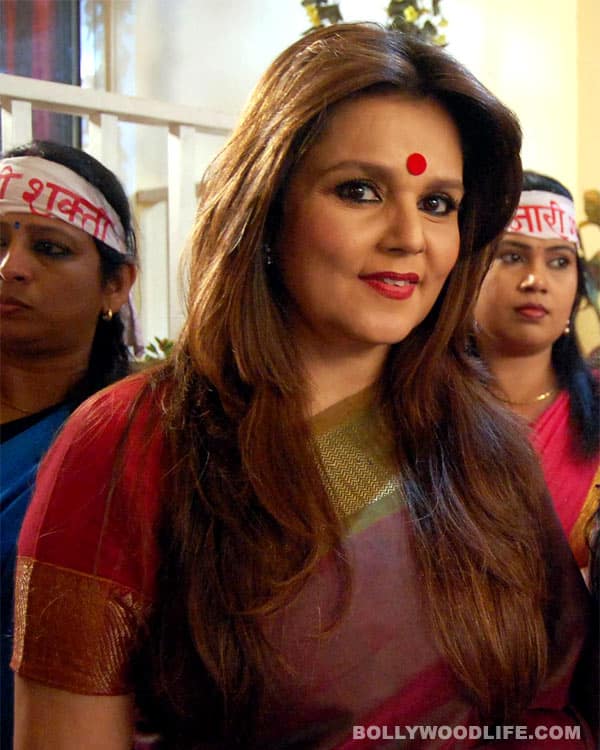 The former supermodel is happy playing mother to Mouli Ganguly in the daily soap
The name Nandinii Sen evokes mental images of glamour and beauty. Of the good ol' times when you needed to be fit – not necessarily size zero – to be a topnotch model. It's been a long time since Nandinii was the face that launched a hundred products. She prefers facing the camera in a different way nowadays – as Devashree, the social activist mother of Anushka Sarkar (Mouli Ganguly) in Ekta Kapoor's production Kya Hua Tera Vaada. "I did the show for Ekta. I knew she will give me a good role," says Nandinii. And from what we've heard, Devashree will be back very soon. Looks like it's going to be more complications for protagonists Mona, Pradeep and Anushka. Will we see a face-off between Devashree and Suhasi? Nandinii laughs, "Even I don't know if and what the track is going to be."
Nandinii is not one of those to hanker after more screen time. She's happy doing cameos. "I did a cameo in the Whistling Woods production Love Express, and again in Love Breakups Zindagi, then as Abhay Deol's mom in Zindagi Na Milegi Dobara. My next film is Student Of The Year, where I play Alia Bhatt's mom," she says.
So how did the transition from modelling to acting occur? "I returned to Mumbai three years ago. My daughter wanted to join the movies and she enrolled in an acting course at Kreating Charakters. I too enrolled with her. After the course ended, I got work quickly. I am very lucky."
Luck, she says, is what started off her modelling career too. "The modelling field is much more competitive now. You have to be size zero, have a portfolio shot professionally, and audition with 50 other sfor the same position. It was more laidback then. I was discovered on the beach! My family had gone to Marve (a beach town near Mumbai) for the weekend and a friend of a friend, who was a model co-ordinator, happened to see me. I had not yet written my final ICSE papers and suddenly I was a model. We were all works-in-progress. We did everything ourselves, including our hair, make-up and shoes." Despite that, Nandinii went on to become the face of several brands. She is still remembered for the print advertisement she did for a shoe polish. "I just loved being in front of the camera. It was bliss."
Those still cameras have been replaced by video equipment, but Nandinii's love affair with lenses continues. "Acting is a totally different field than modelling. As a model, I was always selling something. As an actor, I have to connect with the emotions I am portraying and make it relatable to the audience. When I play Devashree, I have to bring out the passion of a liberated woman, whether I am like that in real life or not. I have to forget that I was a model and concentrate on portraying Devashree as a Bengali intellectual, instead of worrying if I am looking fat."
Nandinii believes that her main strength as an actor comes from her days as a therapist and meditation teacher. "I love connecting with people. I had a wonderful time helping people work through whatever issues they were coming to me for. We as Indians are very emotional. We have issues connected with each other. It helped me in the process of self-discovery," she recalls.
Nandinii is happy being where is now. "I was once told, 'Accept that you are in the fall of life.' That was a lovely piece of advice. I am happy with the way things are going. I love acting. Sure, it's tough – but aren't all jobs tough?" she signs off.