Saturday, June 2, 2012
Bollywood News, Celebrity News, Bollywood Gossip, Bollywood Movies, Style, Fashion, Photo Gallery, Videos: Bollywoodlife.com
Priyanka Chopra and Shahid Kapoor gear up to perform at the IIFA Awards Ceremony!
Jun 2nd 2012, 07:01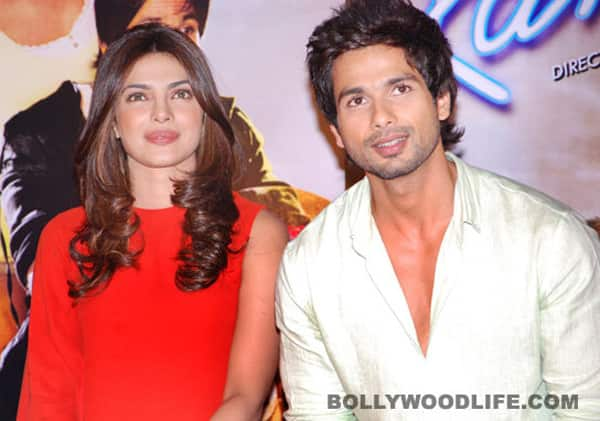 While PeeCee is all set to pay tribute to the diva of B-town, Rekha, we hear Sasha will shake a leg on the South numbers. But preparations for those aren't keeping the duo from squeezing some time out for long drives. And here's why…
Priyanka Chopra is totally excited about her performance through which she will pay tribute to the glamorous and poised Rekha. "This year I would be paying tribute to Rekhaji. I completely love and adore her," Piggy Chops confessed in an interview.
As for Shahid Kapoor, it's time to grove to some dhinchak South songs. "There are lot of South actors who are coming to IIFA this year including Kamal Haasan. So this time I am going down South. I will be performing on old South songs. I would be performing on one of the songs from Appu Raja. It is a cool song, I am trying to learn the lyrics. It is my ode to South film industry," the actor said. And all this for the upcoming 13th IIFA Awards that will be held in Singapore this year from 7 June to 9 June!
But if that makes you think that this is what is keeping the actors busy, you might be wrong. Apart from preparing for their IIFA performances the actors are also busy zipping all over the town in a red coloured Jaguar! Ahem ahem. But before you start wondering about what's brewing, here's the reason behind those drives.
According to reports, Shahid and Priyanka are working very hard at promoting their forthcoming movie, Teri Meri Kahaani. And that's why they have been commuting from one end of the town to another. Why, on one such trip we even spotted a journalist accompanying the two! Sigh!
Seeing you two work so hard for promoting your thrice-upon-a-love-story makes us hope that the movie does really well. And yeah, we even cross our fingers for your performances at the IIFA. All the best!