Monday, June 4, 2012
Bollywood News, Celebrity News, Bollywood Gossip, Bollywood Movies, Style, Fashion, Photo Gallery, Videos: Bollywoodlife.com
Priyanka Chopra, Deepika Padukone or Asin: Who will bag 2 States?
Jun 5th 2012, 06:19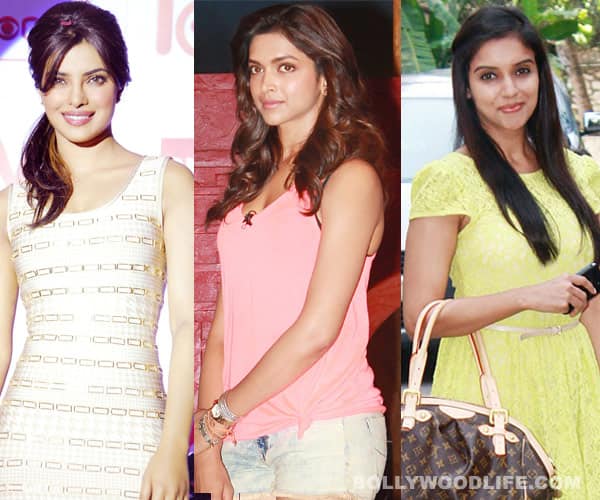 The three girls are vying to play the role of Imran Khan's love interest
Imran Khan, and not Shahrukh Khan, will star in the film adaptation of Chetan Bhagat's novel, 2 States. Actually, it makes more sense! Considering the hero of the book is a young Punjabi man who has just graduated from college, Imran fits the bill more than the 46-year-old SRK. But who will be his leading lady? Speculations are rife that the race is between Priyanka Chopra, Deepika Padukone and Asin. The female protagonist is a Tamilian and that's why those who claim to be in the know say that Deepika and Asin, who are South girls, have a better chance than PC. But PC's friends insist the Punjabi gal can also be convincing as a Tamilian. Didn't she play a Maharashtrian with aplomb in Kaminey and Agneepath? Then, why not a Tamilian girl!
Frankly, we are not keen on Priyanka doing the role! It's not that we doubt the National Film Award-winning actor's capabilities. It's just that we are not quite sure about the Imran-Priyanka pairing. But we would like to be pleasantly surprised.
Deepika and Imran, on the other hand, were fun together, in Break Ke Baad. The film tanked, but we would love to watch them explore their onscreen chemistry once again, with a better script to back them up. As for Imran and Asin, well, that's a fresh pair we'll be interested in watching. But will Asin look older than her hero? Take the poll, and tell us which pair you like the best!
View Poll