Friday, June 1, 2012
Bollywood News, Celebrity News, Bollywood Gossip, Bollywood Movies, Style, Fashion, Photo Gallery, Videos: Bollywoodlife.com
ROWDY RATHORE – artistic images!
Jun 1st 2012, 14:30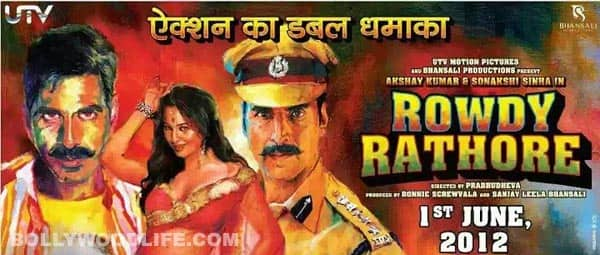 Will the Akshay Kumar-Sonakshi Sinha starrer revive the lost art of hand-painted posters?
A movie poster is used to advertise a film. Posters are very important as they create the first impression and buzz about a movie before it hits the screen. Today's posters often feature photographs of the lead actors, while earlier illustrations were more commonly used. The movie posters of the just-released Rowdy Rathore were made by using hand painted illustrations of the kind commonly seen in the 1960s and 70s. These posters usually featured illustrations of actors or scenes from the movie – and these have been revisited with sketches of Akshay Kumar and Sonakshi Sinha for the promotional materials for Rowdy Rathore.
Once upon a time poster art was an effective medium for publicity. They would catch the attention of audiences and draw them into the theatre. Artists like MF Husain, who started out as a poster-painter in the gallis of Mumbai – made the banners eye-catching with unnatural and bright colours that indicated emotion and mood – for example, for anger, bright red dominated, as in posters of Coolie and so many Amitabh Bachchan films. Mother India also had graphic imagery in its posters – the first picture that comes to mind is Nargis Dutt carrying a plough on her shoulders, the load representing the burden of responsibility she hefts on her shoulders and her face indicating the range of sacrifices she made to fulfill her husband's dream.
The decline of hand painted posters began in the 1980's when cut and paste techniques became easier, quicker, cheaper and more realistic. The arrival of electronic media killed the art of hand painted poster making. But things have come full circle. Prabhu Deva has gone back to the old style for his latest Akshay Kumar- Sonakshi Sinha starrer Rowdy Rathore. Perhaps this will give the dying art a fresh lease of life.