Friday, June 1, 2012
Bollywood News, Celebrity News, Bollywood Gossip, Bollywood Movies, Style, Fashion, Photo Gallery, Videos: Bollywoodlife.com
ROWDY RATHORE movie review: Akshay Kumar's cop act entertains, but offers nothing new
Jun 2nd 2012, 03:43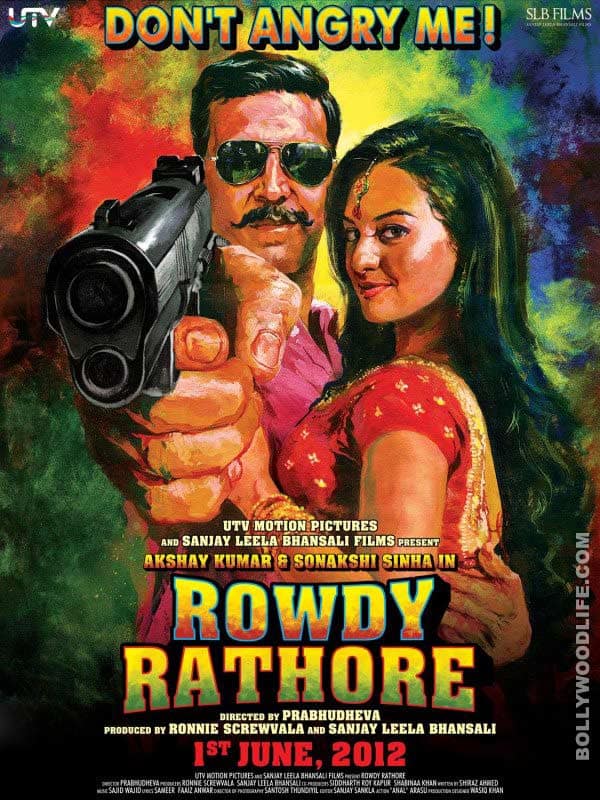 Khiladi Kumar's version of a moustachioed cop is appealing, but the formulaic plot makes the film boring
From the promos and songs of Sanjay Leela Bhansali and Prabhu Dheva's Rowdy Rathore, it's obvious the film is a done-to-death drama woven around a larger-than-life hero, except with a different superstar, Akshay Kumar. Obviously, the film highlights our filmmakers' desperate need for a guaranteed success formula at the box office. But when there have been so many films in the same genre, shouldn't writers and directors try to incorporate some uniqueness and freshness to the over-abused plot?
Rowdy Rathore unfolds in Mumbai, where a small-time thief, ironically called Shiva (Akshay Kumar) and his sidekick (Paresh Ganatra) make a living by looting people – from a policeman to the aam janta. During one such robbery, the PJ-cracking thief's eyes fall on the curvaceous, salwar-kurta clad Paro (Sonakshi Sinha). It's love at first sight for Shiva. He not only tricks Paro into believing that she too is in love with him, but also coolly becomes a part of the wedding his lady love has come to attend from Patna. The first half of the film goes into establishing Shiva's city slick chor character and his romance with Paro.
Meanwhile, on one occasion he gets into a situation of mistaken identity. First he is mistaken by a man as his lost bhaiyya, and then a young girl insists he is her father. When Shiva tries to find out why the young girl is hellbent on calling him her dad, he finds a photograph of the girl with his lookalike. He is a cop, Vikram Rathore.
In the second half, it is revealed that Vikram hails from a village called Devgarh where he saved people from Babji's (played by Nasser) tyranny. Soon after the intermission, Vikram dies and Shiva takes over as the cop. And he becomes Rowdy Rathore! Unlike Vikram, Shiva isn't always beating and punching the burly goons, he's quite a city slicker who slyly destroys Babji's empire in the village. You don't need great imagination to know what happens next and how the film ends.
Clearly to watch this film you shouldn't pay attention to any of those nerves and cells in your body that look for rationale, 'coz if you don't you will suffer.
Sonakshi Sinha's character is an extension of her role in Dabangg, and she thankfully has more dialogues in this on. She is in the film to cast a spell on the hero with her chikni kamar and scare the villain in the climax scene by singing praises of her rowdy thief-turned-cop boyfriend.
Akshay Kumar does an able job of playing thief, serious cop and eventually thief-turned-cop, Rowdy Rathore. His character is obviously inspired from Salman Khan's Chulbul Pandey in Dabangg and Ajay Devgn's Bajirao Singham in Singham. The only difference is that Akshay has enhanced the chor and cop character by adding his kind of slapstick humour to it.
Rowdy Rathore has all the ingredients that you look for in a masala entertainer – a larger-than-life hero, a heroine who looks good and dances well, punchy and funny dialogues, humdrum situations, loud music, burly goons and a happy end. Yet it doesn't impress you. Or maybe if you are an Akshay Kumar fan and would like to watch his version of a mustachioed cop, go for it this weekend.