Friday, June 1, 2012
Bollywood News, Celebrity News, Bollywood Gossip, Bollywood Movies, Style, Fashion, Photo Gallery, Videos: Bollywoodlife.com
ROWDY RATHORE movie review: Total timepass, total formula!
Jun 1st 2012, 08:05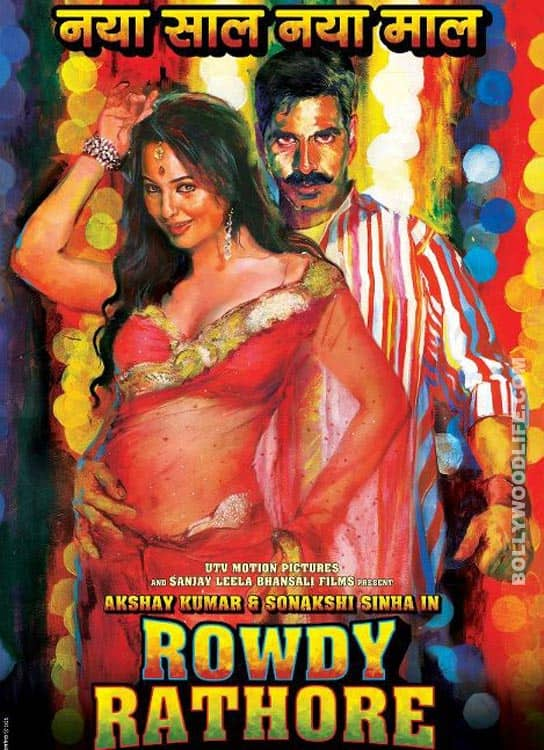 Entertainment is what this Akshay Kumar-Sonakshi Sinha starrer is all about – a very massy, masala, dhinchaak khichdi of songs, dance and fight sequences
It's all about entertainment, as Vidya Balan so famously said in her avatar of Silk, in The Dirty Picture. There is colour and sound, and singing and dancing, and lots of maar-dhaad dhishum dhishum stuff going on, all of which you would logically expect in a Salman Khan film. In fact, halfway through this one, even as Akshay Kumar contorts his face and revs up to punch the baddie, you are suddenly transported to last year, and that feeling flashes across your brain that you could be watching Wanted or Ready or Dabangg. But hang on, this is not a Salman Khan-starrer. It is the comeback to action clarion call from Akshay – the man who has been doing mindless comedy and the occasional quiet drama for a few years now. So just what is going on? Yeh kya ho raha hai?
Welcome to the wild world of Rowdy Rathore. Akshay plays a double role, one side of him being the petty thief Shiva, who aims straight for the seeti-bajaaoing front benchers, while the other side – the law-enforcer Vikram Rathod – directs his attention to the more serious viewers who look for acting rather than action. Akshay revels and excels in both, even though we cannot help but think that perhaps he is getting a little old for all the romancing and bashing up goons sequences. Nonetheless, we are riveted as he wields his fists, his weapons and his wit with equal elan.
Keeping the song and dance thing going in the first half is Sonakshi Sinha, who fits the rustic part with her generous curves and her hip-swinging movements. She wisely sticks to her image as a village belle, her eyes as gorgeous as they were in Dabangg, and the whole ghagra-choli gaon-ki-chhori act is spot-on. Ace-bad guy Nasser is superbly nasty, while the other characters play their parts with finesse, though you sometimes wonder why they are there at all.
The star of this particular show is the director, Prabhu Deva, whose skill as a choreographer is in full evidence in Rowdy Rathore's songs. Even as Pritam pyaare repels with its blatantly sexist dance moves and double entendres, Chinta ta ta has people jigging in the aisles. There is far less potty humour, if any, and mercifully little that could be called 'vulgar', which makes this one a fun watch without parents having to cover their kid's eyes and ears. The violence, yes, is gratuitous in parts, but the pace of the film overrides any lack of real plot, and the flying blood and gore that could be disturbing if any time was spent lingering on those scenes.
A fun watch, if that is all that is wanted from a film.
Watch 'Rowdy Rathore' song videos, read gossip and view pictures
ALSO READ: