Wednesday, June 6, 2012
Bollywood News, Celebrity News, Bollywood Gossip, Bollywood Movies, Style, Fashion, Photo Gallery, Videos: Bollywoodlife.com
Saif Ali Khan sings about local liquor!
Jun 6th 2012, 12:34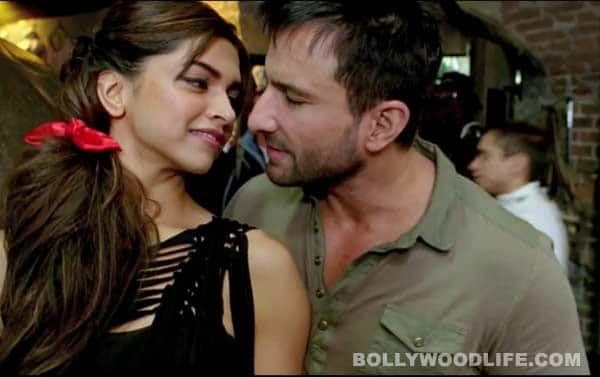 The actor's song Daaru desi is intoxicating in Hindi but hilarious in English
The name of the movie is in English, but all the songs of Saif Ali Khan and Homi Adajania's second venture together, Cocktail, are in Hindi. We wondered how the hit song Daaru desi will sound if it too was in English. The lyrics are quite funny and it was a lark to literally translate them in English. C'mon, if you can appeal to non-Hindi speaking viewers with an English title, you can try to get them involved with a properly translated song too, right? Our effort in literally translating the song into English had us in splits. What about you?
Chadhi mujhe yaari teri aisi
Jaise daaru desi
Khatti mithi batein hain nashe si
Jaise daaru desi…
Climbed me, my friend, yours in this way
Like liquor local
Sour sweet words are like a drug
Like liquor local
Ladkhadane lagi muskurane lagi
Bewajaah har jagaah aane jaane lagi
Tu mujhe main tujhe
Jo bhi ho dil me woh khul ke bataane lagi
I stumble began to, smile began to
Without reason every place I began to come and go
You me, I you
Whatever was in heart that I openly began saying
Waqt bhi sarfiraa sa lage
Bhaagta saa rahe har jageh
Waqt ko in dino sujhne hai lagi dillagi
Ho, yaariyaan gadiyaan jab hui
Aaj kal marziyon ki jagah se thhagi zindagi
Time also mad seems
Running as if every place
Time to nowadays has been thinking of love
Hey, friendship, vehicles when happened
Nowadays from freewill's place has moved life
Saath hum jo chale
Bann gaye kaafilein
Aur koi hamen ab mile na mile
Mauj hai roz hai
Roke se bhi naa ye rukte kabhi silsile
Together we walk
Have become group
And any we now meet or not meet
Fun is everyday is
Stop and even then these don't stop sometime this chain of events
Chadhi mujhe yaari teri aisi
Jaise daaru desi
Khatti mithi batein hain nashe si
Jaise daaru desi…
Climbed me, my friend, yours in this way
Like liquor local
Sour sweet words are like a drug
Like liquor local
Hai chadhi hai chadhi is kadar
Ghoomti jhoomti har dagar
Befikar befikar saa lage zindagi ka safar
Yaar ko yaar ki hai khabar
Pyaar se pyaar si baat kar
Yei jahaan hai jahan
Hum rahein ab wahin umra bhar
Hey climbed has climbed has in this way
Swirling dancing every alley
Without worry, without worry so seems life's journey
Friend has friend's news
Love with love talk do
This world, hey world
We stay now there for entire life
Dhoop ko thaam ke chal pade na thake
Fursaton mein rahe, kaam ho naam ke
Befikar befikar subhaa suhaanee ho khaali ho pal shaam ke
Sunlight catch and walk don't stop
In free time we stay, work there of only name
Without worry without worry morning beautiful is, empty are moments of evening