Thursday, June 7, 2012
Bollywood News, Celebrity News, Bollywood Gossip, Bollywood Movies, Style, Fashion, Photo Gallery, Videos: Bollywoodlife.com
Shahid Kapoor, Sridevi, Abhay Deol, Prateik leave for Singapore
Jun 7th 2012, 07:49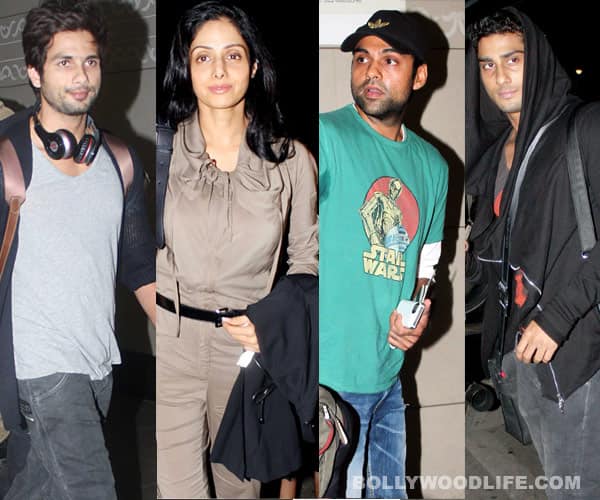 The actors were spotted at the airport heading for IIFA Awards 2012. And surprisingly, we also came across a couple of TV stars and small time actors, all set to make an appearance at the event
Sridevi and Boney Kapoor were seen along with their daughters and looked very excited about the trip. And while they posed happily for the shutterbugs, the one person who caught our attention was Pooja Missra. She seemed to be in her usual irritable mood. And as she showed her middle finger to the paparazzi, we wondered if the babe has mistakenly come to the airport instead of visiting a shrink. Farhan Akhtar, on the other hand, looked very chilled out and relaxed. And it seems like he's smitten by the idea of sporting a hat wherever he goes these days. Shazahn Padamsee and her mom Sharon Prabhakar opted for a casual airport style, whereas actor Aarti Chhabria preferred to go wild. She was seen wearing an animal print shirt which she teamed with plain black pants.
Abhay Deol and girlfriend Preeti Desai made their entries separately. Dibakar Banerjee walked around with an air of confidence and we wonder if that's 'coz of the rave reviews his movie (Shanghai) has been getting.
Singapore is going to be the ultimate Bollywood hub for the next few days. And we hope this star-studded fiesta turns out to be nothing less than spectacular.