Wednesday, June 6, 2012
Bollywood News, Celebrity News, Bollywood Gossip, Bollywood Movies, Style, Fashion, Photo Gallery, Videos: Bollywoodlife.com
SHANGHAI movie review: An enthralling and important film
Jun 7th 2012, 05:43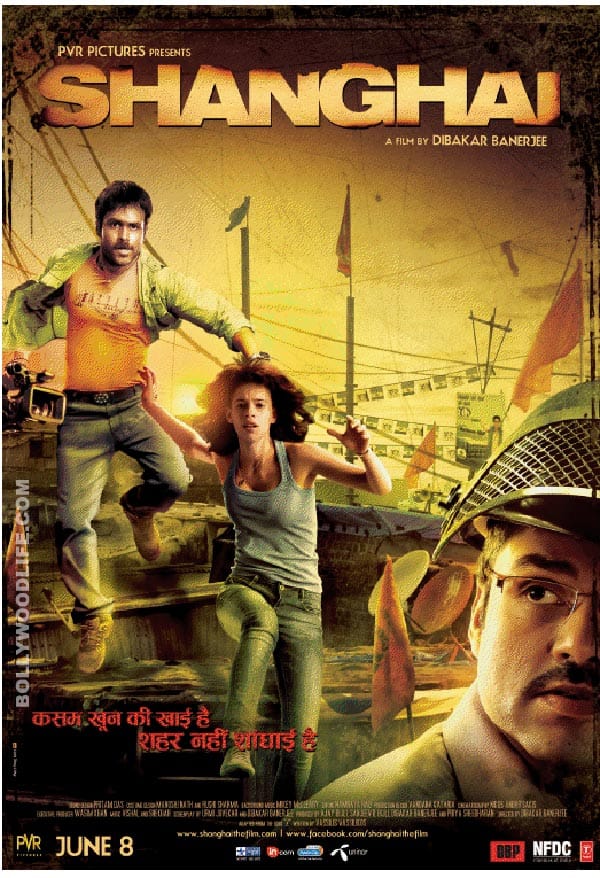 Dibakar Banerjee's political thriller not only shocks, engages and enthralls, but it also packs in some subtle messages about the state of the nation
First things first, the real hero of Shanghai is neither Abhay Deol nor Emraan Hashmi, it is Dibakar Banerjee and his co-writer Urmi Juvekar. Shanghai is in the same league as the recently released Sujoy Ghosh movie, Kahaani, though both the films have different backdrops. Political thriller as a genre has rarely been explored in Bollywood, but with Shanghai, Dibakar has made one of the most compelling films in that zone. A special mention here for Emraan Hashmi, who has not only ventured out of his comfort zone, but has also delivered the goods that a film like Shanghai demands. This is a mean feat in itself!
The makers of Shanghai have already given away so much in the trailers that you might think you already know the story of the film. This is exactly where you have erred, as that's how it was with Sriram Raghavan's Johnny Gaddaar. The same holds true for this political thriller. More than a 'who done it?', Shanghai is about 'how and why done it?'. The director, in his own words, is a 'hustler'. Not only did he manage to convince everyone that his film is a commercial one, but he also managed to give us a political thriller starring the 'serial kisser' Emraan (who doesn't kiss in this one!).
Set in a fictional city called Bharatnagar, Shanghai represents almost every developing city in our country, where one always sees that work is in progress, yet knows deep down that it is all hogwash. The selfish agendas of politicians, the helplessness of those who somehow manage to eke a living, and those who suffer for no particular fault of their own, are all mirrored in this film which has a run-time of less than two hours. The interval point (totally uncalled for) might irk you, but Bollywood films minus the popcorn-soda break are unimaginable I guess.
Adapted from Vasilis Vasilikos' novel 'Z', Dibakar's latest big screen outing is a representation of what is happening around us. The shopping malls, the metro railway lines and all the other development that is being spoken about, mean a lot more – only if you bother to dig deeper. You could end up as an outcast in your own land if you sell your soul, and that is what we took home with us after watching Shanghai. Selling out is an easy proposition if your existence is at stake or if you are not risking the next meal.
Abhay Deol and Emraan Hashmi are the main protagonists, ably supported by Kalki Koechlin and Prosenjit Chatterjee, who managed to convince us that we have to draw a line between capitalism and socialism. It might be good to have a stroll in the malls, but when you are stuck in traffic jam and you are exposed to a part of society that finds it difficult to manage even a square meal a day, all the hope seems to be lost. Watch Shanghai to get a peek into an India that is not shining. Watch this thriller – if only to figure out where we are headed as a nation.
You may or may not like this political thriller, you might feel that you are over and above what happens to the characters played by Abhay, Emraan and Kalki in the film, but the fact is that it is a burning issue for all of us. The film will make you want to initiate a talk about what we want and need more – a shopping mall funded by someone who only has his own profits on his mind, or a seemingly tiny revolution that might change our outlook towards things that we end up ignoring. Shanghai is an important film that deserves to be watched because of its relevance to our life and times.
Kudos to Abhay Deol, Emraan Hashmi, Kalki Koechlin, Prosenjit Chatterjee and Pitobash Tripathi, who made Shanghai a memorable watch. Though Dibakar's subject is serious, the film entertains and has its light moments too. The 'Imported kamariya' item song isn't really an item number; it's an integral part of the story. The other songs are sparsely used, and Bharat mata ki jai is an anthem-like wakeup call for the nation at large. Shanghai might come across as too intelligent for those who just love to see Emraan locking lips and doing intimate scenes with the leading ladies of his films. We just hope that Dibakar's honest attempt at making a socio-political comment finds the audience that it deserves.