Thursday, June 7, 2012
Bollywood News, Celebrity News, Bollywood Gossip, Bollywood Movies, Style, Fashion, Photo Gallery, Videos: Bollywoodlife.com
Shilpa Shetty and Raj Kundra's baby boy named Viaan Raj Kundra!
Jun 7th 2012, 06:22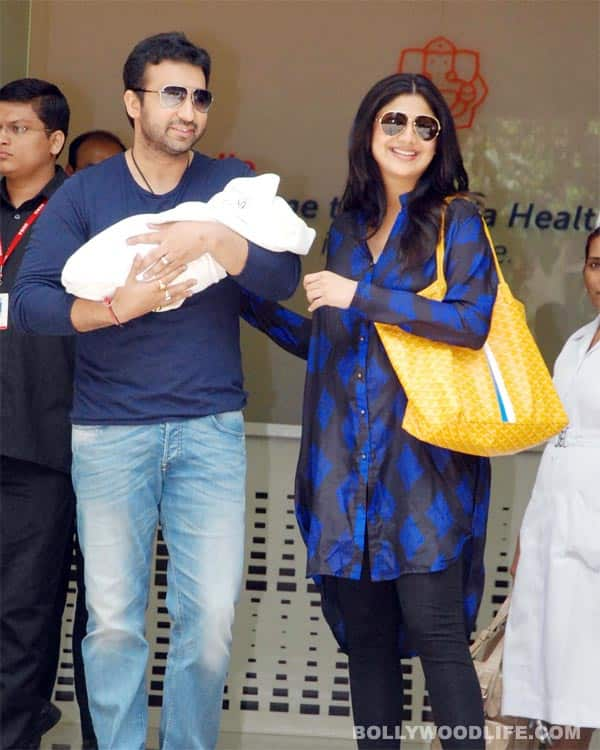 After cooing at length about Baby K for so many days, the proud father finally announced the name of his son on the microblogging site last night
Shilpa Shetty and Raj Kundra were ecstatic after their son, now called Viaan Raj Kundra, was born on May 21, 2012. And Papa K, who has been blissfully unemployed for a while to be close to his darling baby at all hours, shared his jubilation time and again with fans and well-wishers through the microblogging site.
And it was, as expected, on Twitter that Raj Kundra confirmed his baby's name by tweeting, "Yes its official @TheShilpaShetty and I have proudly named our son #ViaanRajKundra it means full of Life and energy :)" And then he also formally initiated his son into this tweet-culture by declaring, "Please welcome twitter's youngest user my son @Viaanrajkundra :) be nice to him and he may reply ;)." And guess what, the parents have even started tweeting on the baby's behalf! While the baby Viaan's description reads, "I am just a baby so don't judge me! I love Milk, Sleeping, Cuddling up to my Mum and Dad and want to see World Peace! (ok last one i don't know much about yet)," a sweet tweet from his account revealed, "Good morning all, had a great sleep woke up mum n dad thrice in one night to drink milk & play. Thank you tweeto's for a lovely welcome." Awwwww!
Anyway. Coming back to the baby's name, any guesses who must've named the cute li'l one? A while ago Raj Kundra had said, "I have told my mother-in-law to pick an alphabet as she knows about astrology. So, whatever alphabet she gives us, we will decide the name accordingly." And maybe that's when Shilpa's mom, who is known for her clairvoyance, picked the alphabet 'V'.
According to the buzz, li'l Viaan's naming ceremony took place at Shilpa and Raj's house in Juhu and was attended by close family members. From those present were mommy Shilpa's parents, Sunanda and Surendra Shetty along with her sister Shamita, Raj's parents Usha Rani and Bala Krishna Kundra.
ALSO READ: