Wednesday, June 6, 2012
Bollywood News, Celebrity News, Bollywood Gossip, Bollywood Movies, Style, Fashion, Photo Gallery, Videos: Bollywoodlife.com
Sonakshi Sinha celebrates her birthday with Akshay Kumar and Ajay Devgn
Jun 6th 2012, 08:02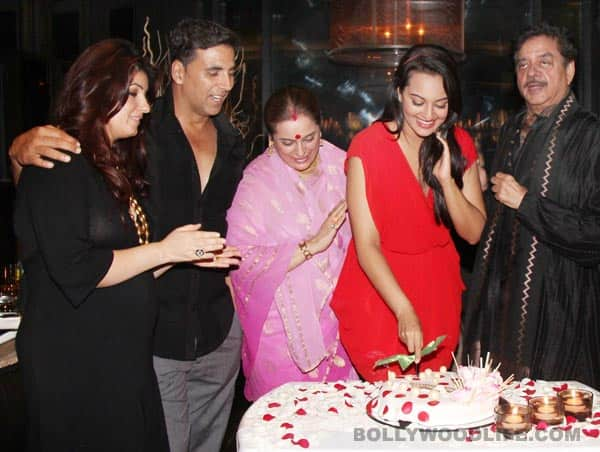 The Rowdy Rathore gal turned 25 recently and celebrated the special day with her co-stars
Sonakshi Sinha is in the mood to party! The stupendous success of her recent release Rowdy Rathore has brought Sona back into the spotlight big time. And if that's not enough, the charming actor had one more reason to celebrate. Sona turned 25 on June 2, and we hear that the Dabangg actor was busy cutting birthday cakes throughout the day!
Her first cake came from Ajay Devgn, with whom she will be seen in Ashwini Dhir's film Son of Sardar. Later in the day, Akshay Kumar got a special cake for his Rowdy Rathore co-actor. We also hear that Sonakshi loved Akki's cake and she even said that it was the yummiest cake she had eaten.
After a couple of cake cuttings with her filmi friends, Sonakshi got one more cake at home in the evening for her father Shatrughan Sinha, mommy Poonam Sinha and also for her brothers Luv and Kush. Akshay Kumar turned up at Sonakshi's house with Twinkle Khanna and Prabhu Deva.
Sonakshi, we are sure, had a blast on her birthday. But now that she has consumed so many calories, it is time to hit the gym for the plump actor. Right, Sona?