Tuesday, June 5, 2012
Bollywood News, Celebrity News, Bollywood Gossip, Bollywood Movies, Style, Fashion, Photo Gallery, Videos: Bollywoodlife.com
Was Ajay Devgn the real reason behind Kangna Ranaut missing out on film promotions?
Jun 6th 2012, 05:20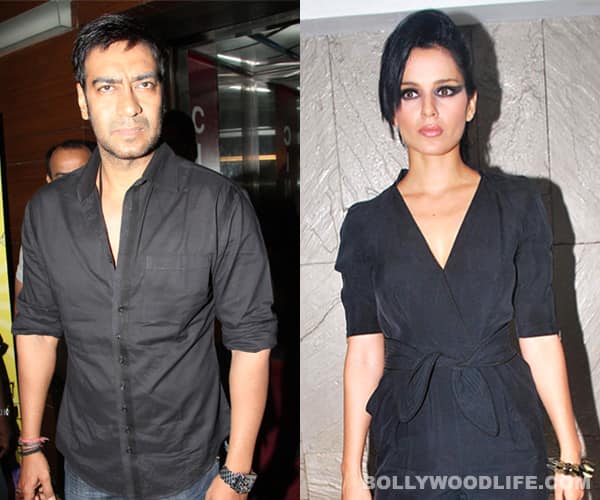 While watching the promotions of Tezz and Rascals, we couldn't help but notice that Kangy was pointedly left out of it all
Ajay Devgn's loyalty graph to Kajol has been spotless, apart from a stray rumour that involved Kangna Ranaut. It all began when Mr Devgn was paired with Kangna during the filming of Once Upon a Time In Mumbaii. And buzz suggests that he found Ms Ranaut's company so attractive that he pushed filmmakers to cast her in Rascals and Tezz as well! Ahem ahem.
This was followed by reports about Kajol walking out on her patidev with nine-year-old daughter Nysa and baby son Yug in tow. But soon after birdies chirped that Ajay had made amends by promising to maintain a safe distance from Kangy and brought wifey back home. Sigh!
While nothing has been confirmed, rumour mongers just refuse to let the issue pass by. And while the real reason behind Kangna's absence from promotional events remains elusive, we can't help but wonder if her alleged affair with the married hero actually had a role to play in it all. Or was it just a figment of someone's overactive imagination? 'Coz would Ajay Devgn really want to draw away from a wife as lovely as Kajol for just a few cozy moments with a co-star? What do you think, Bollywoodlifers?